Visible abnormalities in the milk are often the first sign of mastitis, but should they also determine length of treatment?
Clinical mastitis occurs when we see abnormalities in the milk, the cow's quarter or in the cow. Visible changes in the milk are the result of inflammation or the cow's response to infection.
"Bacteria signal the immune system to produce inflammation, and her immune system goes to work eliminating the bacteria," said Dr. Linda Tikofsky, Professional Services Veterinarian with Boehringer Ingelheim Vetmedica, Inc (BIVI). "Milk may look abnormal but when we culture, we may sometimes get a negative result, which means no bacteria are present. The cow's immune system has already eliminated the bacteria."
The standard practice on dairies is to treat until the inflammation is gone, which is why some five-day treatment regimens have become common. However, this may be leading producers to over-treat with antibiotics.
"We may effectively kill the bacteria within the first 24 to 48 hours of treatment, but the inflammation will go on another three or four days while the body eliminates the dead bacteria and white blood cells," explained Tikofsky. "BIVI offers a tube with a two-treatment regimen that is effective at killing mastitis bacteria. However, the milk may still look abnormal at the time of the second treatment."
Tikofsky recommends producers take a milk sample, culture it and wait 24 hours for results before treating. This can be done without a negative effect on cure rate or animal welfare in cases with mild or moderate mastitis. However, for severe mastitis cases, treat cows right away with the appropriate treatment protocol.
"In 30 to 40 percent of the cultured samples, there are no bacteria present, so producers are only seeing inflammation," she explained.1,2,3 "Just wait until the inflammation subsides, then put the cow's milk back in the tank when it returns to normal."
Stick to Your Protocol
"One of the things that has become very clear is simply that the observation of inflammation is not a good determinant of how long to treat," agreed Dr. Pamela Ruegg, professor, dairy science, University of Wisconsin-Madison. "After clinical mastitis occurs, milk remains abnormal for four to six days and even up to nine days. So if you are treating for a shorter duration and milk remains abnormal when treatment ends, stick to the prescribed protocol."
Ruegg said the most important determinants for length of therapy are based on two factors:
Do you know what the pathogen is? Different pathogens have different points of infection in the gland and different spontaneous or more rapid cure rates.
What's the history of the cow? Has the cow been infected subclinically for a while before becoming a clinical case or is this a completely new case?
"Monitor using a scoring system and record the results, so you'll have a baseline of cow-level information and a sense of confidence of whether a case is remaining the same, improving or worsening," Ruegg added. "That information helps differentiate inflammation and infection and monitors progression, which is usually simply waiting for the inflammation to subside after your treatment is complete."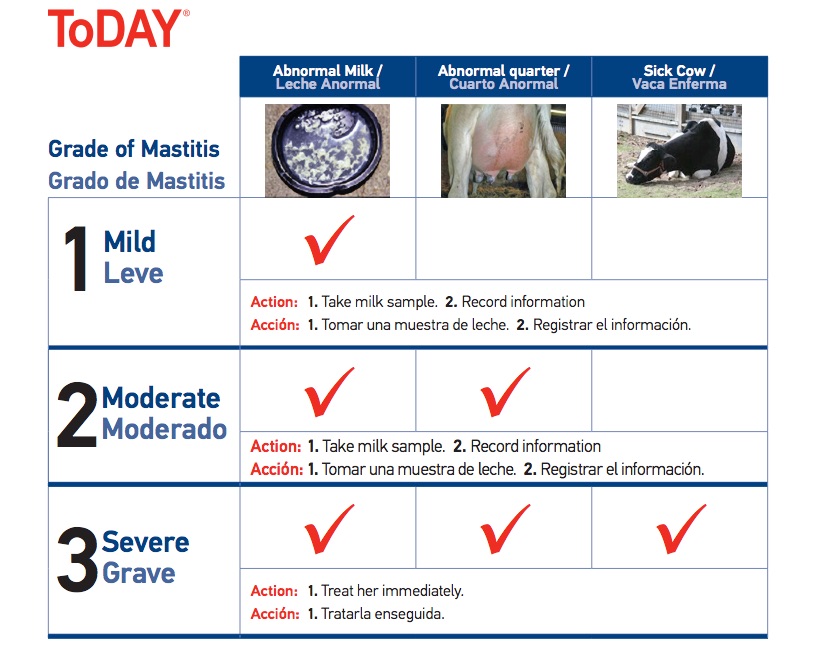 Click the image to download.
When identifying signs of mastitis, it's important to know how severe a case may be.